A Santa Cruz Restaurant with Style
Solaire restaurant is open for grab-and-go breakfast 7 days a week.
Enjoy modern American cuisine in a cool yet comfortable setting at our very own Solaire Restaurant + Bar. Inspired by the imaginative spirit of downtown Santa Cruz's dining culture, Solaire's nature/nurture-themed menu highlights local, sustainable cuisine with fresh ingredients.
The restaurant's casually upscale design draws the outside in with a multi-angled ceiling adorned with backlit trees and blue skies, while the outdoor patio brings the natural beauty of Santa Cruz to your table with views of our sparkling pool and surrounding redwood trees.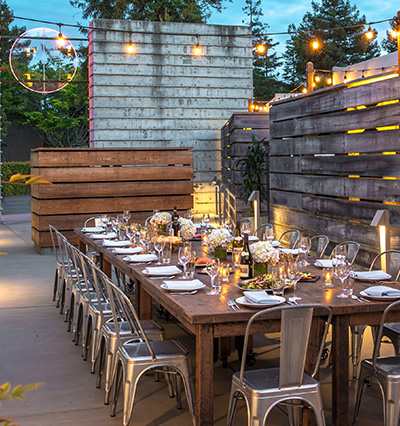 Daily Hours
Breakfast
7:30am – 11am
Solaire Breakfast Menu
Continental Breakfast $12 (GF) (NF)
House-made muffin, organic plain low-fat yogurt, house-made granola, local strawberries
Avocado Toast $14
Seeded bread, herb salad, 2 eggs, siracha aioli
Solaire Breakfast Burrito $14
Flour tortilla, eggs, ham, cheese, and red potatoes
Chilaquiles $14
House made tortilla chips, diablo salsa, 2 eggs, queso fresco, and cilantro
Pancakes $10
2 fluffy pancakes, syrup, and butter
Add Ons $2: Chocolate Chips, Blueberries
Jr. Breakfast $10
2 scrambled eggs with cheese, 1 chicken apple sausage and toast
Add On:
Chicken Apple Sausages $3
Applewood Smoked Bacon $3
2 Slices of Ham $2
Cheddar Cheese $2
Avocado $2
Chef de Cuisine Erika Nonemaker
After years of exciting adventures, from sailing the Pacific Cup at 18 to spending her sophomore year of college in Madrid to moving to Paris to study at the Sorbonne, Chef Nonemaker was forced to change her life. She had grown ill after the birth of her son, losing most of her hair and fighting to survive. This is when she metamorphosed into the chef she is today. She completely changed her diet, taking on the vegan lifestyle and healing herself through holistic cuisine. Today, she pays homage to her past in her approach to food—with thoughtful ingredients that take you on an unforgettable journey while benefiting your body.
If you require additional assistance to read the PDFs on this page please contact (831) 425-7100 for assistance.