A Santa Cruz Restaurant with Style
Please Note: Solaire restaurant is currently open for Breakfast grab-and-go but we have fantastic recommendations to support local restaurants. Our pool and jacuzzi will also not be operational during your stay (subject to change).
Enjoy modern American cuisine in a cool yet comfortable setting at our very own Solaire Restaurant + Bar. Inspired by the imaginative spirit of downtown Santa Cruz's dining culture, Solaire's nature/nurture-themed menu highlights local, sustainable cuisine with fresh ingredients.
The restaurant's casually upscale design draws the outside in with a multi-angled ceiling adorned with backlit trees and blue skies, while the outdoor patio brings the natural beauty of Santa Cruz to your table with views of our sparkling pool and surrounding redwood trees.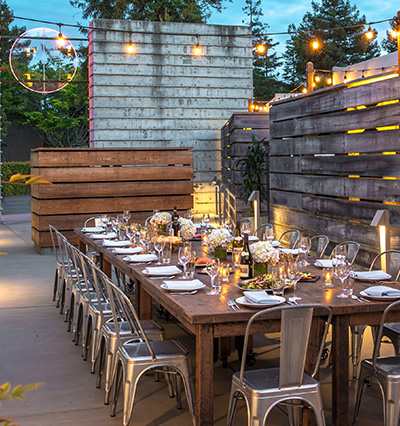 Daily Hours
Breakfast
7am – 11am
Executive Chef Chad Greer
After graduating from the California Culinary Academy in 1996, Chef Chad Greer went on to work at an array of outstanding eateries across the country, from Jean-Georges' four-star Manhattan restaurant to his very own Beso Restaurant in Hudson Valley, New York. It was at Beso that Chef Greer first developed an interest in sustainable and organic foods, a passion he carried on to his next venture, EarthBelly, a casual Santa Cruz burger joint featuring 100% non-GMO foods. Upon closing EarthBelly's doors, Chef Greer landed at Hotel Paradox and has been working as the Executive Chef for Solaire Restaurant + Bar since November 2018.
Chef de Cuisine Erika Nonemaker
After years of exciting adventures, from sailing the Pacific Cup at 18 to spending her sophomore year of college in Madrid to moving to Paris to study at the Sorbonne, Chef Nonemaker was forced to change her life. She had grown ill after the birth of her son, losing most of her hair and fighting to survive. This is when she metamorphosed into the chef she is today. She completely changed her diet, taking on the vegan lifestyle and healing herself through holistic cuisine. Today, she pays homage to her past in her approach to food—with thoughtful ingredients that take you on an unforgettable journey while benefiting your body.
If you require additional assistance to read the PDFs on this page please contact (831) 425-7100 for assistance.